When I watch comedy scenes about allergies, I cringe and get angry. Sometimes I giggle, just to keep from crying. Other times, I heartily laugh and here are a few reasons why.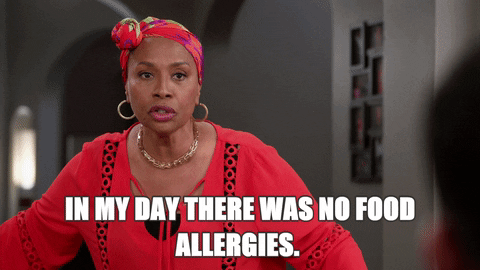 The use of epinephrine and allergic conditions are highlighted in movies and television shows today more than ever. And food allergies have grown at higher rates.
"Peter Rabbit" debuted with headlines of food allergy insensitivity, a petition, and a Sony Pictures apology. The commentary toward food allergy advocates like me, resulted in backlash that "we're too sensitive." The movie still earned $25 million its opening weekend. Amidst the controversy is a scene where Peter and his friends attack Mr. McGregor with blackberries, knowing he is allergic. When a berry enters his mouth, McGregor chokes and self-injects his EpiPen (epinephrine).
No one wants to be the movie spoiler. Yet when it comes to scenes like this, we have to prepare. Thanks to the warnings from Asthma and Allergies Foundation of America and its Kids With Food Allergies (KFA) division, among others, I asked my daughter if she wanted to see it. Without giving detail, I mentioned it has a food allergy reaction scene in it. Her response was "Not really, it kind of sounds like 'Smurfs'."
A child never forgets. No matter the punchline or scene, it makes kids with allergies feel like they are the butt of the joke and are being bullied. Food can hurt and it can be fatal. Period.
However, there are movies that feature allergies and epinephrine that we would watch again. Sony Pictures "Jumanji 2: Welcome to the Jungle" features epinephrine and allergic conditions without outcry.
In an early scene, the mom opens her son's bedroom door and tells him not to forget his EpiPen. A subtle reminder gave me relief. Through the rest of the movie, all of the characters are challenged to overcome their "weaknesses." Among these include an allergy to venom. While rare to encounter a snake bite in real life, there is a message.
What this movie shows is how people can work together to support and protect each other from their greatest weakness, including life-threatening health conditions. That's how we should relate off screen.
The comedy behind allergies can help us all have an empathetic laugh. The punchline or scene just needs to send the right message.
"Jumanji 2: Welcome to the Jungle" reinforces this message. There is good reason behind why it has topped $900 million worldwide. The message.
We're here for each other and hopefully we can learn how to treat each other with kindness. We should encourage each other to just be ourselves, and not let a disability or condition get in the way. May it be achieving a goal, pursuing a dream, or even conquering your greatest fears. You can still be your own kind of warrior and thrive. There is strength behind our weakness.  
When lack of understanding about a health condition hits the big screen, as a health communicator I am not resentful; I'm enlightened.  The word epinephrine or an EpiPen was not the norm in our vernacular outside of those affected by allergies. This life-saving medication was not mentioned on our favorite shows or films when my youngest daughter was first diagnosed.  It is movies like "Peter Rabbit" that forces the dialogue to remain open and keeps advocates like me working to educate and to create change for the better, and for all.